Presbyterian Churches of Bangor, Newtonards, Dundonald & Holywood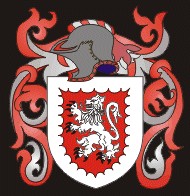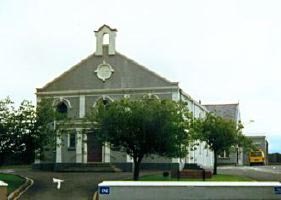 Ballygilbert Presbyterian Church

"A Light for the Road" which is a history of the Ballygilbert Presbyterian Church by John and Eleanor McConaghy.

In the back is an appendix containing 'Extracts from "Statistics of the Families of the Congregation of Ballygilbert" by Rev. Abraham Liggat' (He was the founder of the church, and served from 1841-1851). Opinion is that he wrote these towards the end of his ministry, as he did not complete the whole congregation.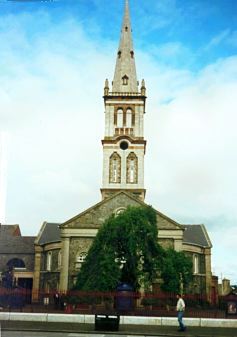 1st Presbyterian Bangor

Rev.Hugh Woods was Minister of First Bangor from 1808-1856.

The present minister is Rev. W.T. Cordner, Tel: (028) 9127 0580.

This is a smaller meeting house at the south end of town in Main Street, Bangor. It was built in 1829 at a cost of £846 which was paid by subscription. It holds 500 people. The minister in 1829 ,1846 & 1863 was Rev. Hugh Woods. (POD). There was a National School adjacent in 1863.

The minister in 1910 was Rev. John Waddell with assistant Rev. Thomas Patterson & organist A.E.J. McCreary.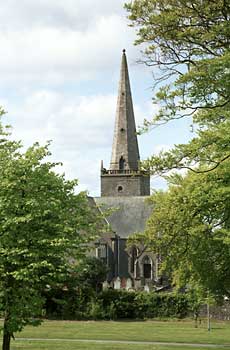 Bangor Abbey

In 558 AD, St. Comgall founded a monastery near this site. From the 9th century, a university was here but was constantly attacked by Vikings. St. Malacy was appointed abbot in 1124 & built the church. It was rebuilt 13th century but the tower is 15th century & a spire was added in 1693 The minister in 1824 was Rev. George Armstrong. (POD). The church was losed in 1882 in favour of the new,larger Church of Ireland in th south of the town before being renovated in 1917.

2nd Trinity Presbyterian Church (founded in 1829)  lies in the centre of Bangor town, opposite Ballymagee Street ;

Its first minister, Rev.William Patterson was there from 1829-1875. 

The mister today is Rev. A. Kennedy, Tel: 028 9145 6619 (Office) or 028 9127 4860 (Home).

The original church in Ash Loanen (Brunswick Road,) was described as a large, fine building; built in 1834 at a cost of £2,400 which was defrayed by subscription. It held 1,000 people. The newer church left, was completed in 1889 to house the growing population. The minister in 1910 was Rev. R.J. Morrell.

Presbyterian Historical Society in Belfast might have any records,  It doesn't seem to have its own email address, but there are these ones: info@presbyterianireland.org and clerk@presbyterianireland.org

Index to Presbyterian Church Records (North County Down)

Parish   





Earliest Date of Records




Location
Ballygraney (Bangor)


1838








UHF, PRONI
Bangor





   1833








UHF, PRONI
Conligh (Newtownards)

  1845








UHF, PRONI
Groomsport




  1841








UHF, PRONI
Donaghadee




1822








UHF, PRONI
Comber





  1847








UHF, PRONI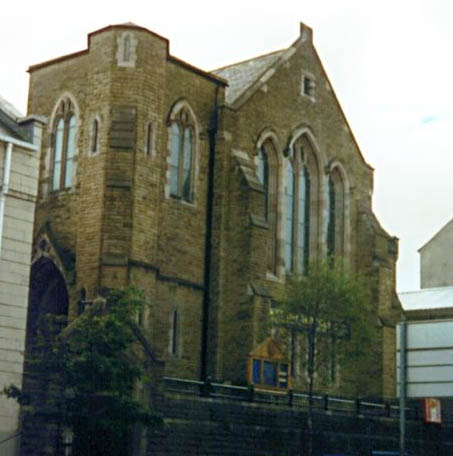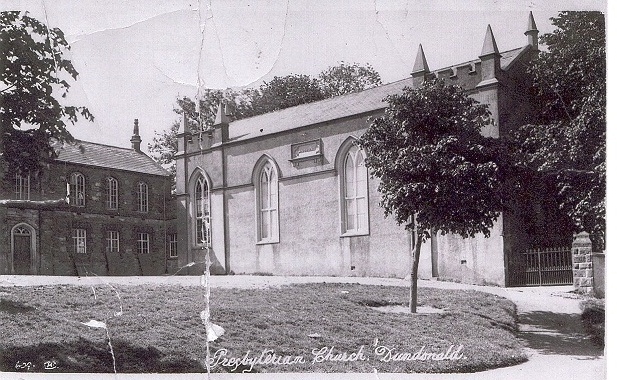 Dundonald Presbyterian Church

Rev Thomas Peebles was minister in 1645-1670 & shared with Holywood. The church was extended with a projecting aisle added in 1769. In 1834 it was described as a very old, plain building measuring 64 feet by 30, capable of holding 300 people. A new church was built 1839. A Revival was held in 1858 with 52 new members added to the congregation. there was a National School adjacent in 1863. Bethesda was set up the 1890s to take the overflow of people.

List of ministers; Rev Thomas Peebles 1645-1670, Rev Gilbert Kennedy 1670-1678, Rev Thomas Cobham 1678-1701, Rev James Sytewart 1709-1748, Rev James Hamilton 1754-1758 , Rev William Ray 1761-1765, Rev James Caldwell 1772-1814 with the elder Mr Blow in 1787, Rev William Finlay 1810-1834, Rev William Graham 1835-1842, Rev Edward Thompson Martin 1843-1891 , Rev James Bingham 1883-1930, Rev James A McQuitty 1927-1958, Rev Ian Alexander Jenkins 1957-1974 , Rev Roy J. Magee 1975-

Newspaper articles from Newtownards Chronicle;

monument to Rev. E.T. Martin 12 Jan 1895

records from 1678; PRONI T808/15307; no graveyard